Casino Cheats: Five of the World's Most Outrageous Capers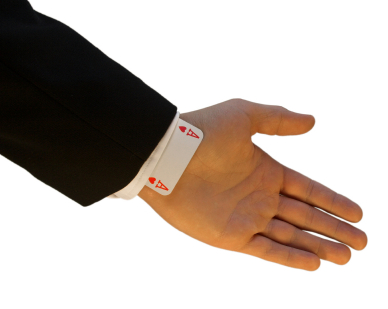 Each year, somewhere between 300 and 500 gamblers are arrested for attempting to cheat the casinos. Below, we take a closer look at some of the world's biggest and best casino cheats.
Casino Cheats #1: Dennis Nikrasch
Dennis Nikrasch started out as a master locksmith in Chicago but ultimately became one of the biggest casino cheats of all time. By the time he was caught, Nikrash had amassed more than $15M in fraudulent winnings. Nikrash started out by applying his locksmith's skills to small time burglaries in Chicago before moving on to the Las Vegas casinos following his first arrest. He was able to operate undetected for some time, but the FBI, eager to make an example of casino cheats, were hot on his trail. With the help of a large crew he'd assembled, Nikrash was able to not only break into the slot machines, but also to rig the machines and control the payouts. Unfortunately for Nikrash, jackpot winnings are paid out incrementally, which didn't leave him with enough money to satisfy his crew once he'd paid himself 70% of the total winnings. One of his crew members cooperated with the FBI and Nikrash was given an 8-year sentence.
Casino Cheats #2: Bruce Koloshi
Bruce Koloshi earned his place among the world's most outrageous card cheats by marking cards with invisible ink. Koloshi wore special contact lenses that he believed allowed only him to see the markings on the cards at the poker tables of Connecticut's Mohegan Sun casino. What Koloshi hadn't counted on, was that when the videos recorded by the surveillance cameras were played in black-and-white instead of color, the markings were viewable. Koloshi had managed to stay under the radar for a while by sticking to smaller pot wins, thereby avoiding drawing unnecessary attention to himself. However, he changed his strategy in February of 2013 by attempting to win a $50,000 pot in Wilmington. While monitoring his play, the security staff noticed that he was making unusual movements under the table and when Koloshi failed to collect his winnings, they reported him to the authorities. Although not charged in Delaware, he was later arrested after being identified by the security team at the Mohegan Sun.
Casino Cheats #3: The Cutters Gang
The Cutters Gang is a group of notorious casino cheats who are thought to have swindled several millions of dollars from casinos throughout the world. This organized group was given the name "Cutters" based on their particular method of cheating. A gang member drag the cut card alongside the deck in a game of baccarat, thereby exposing cards below via a microscopic camera that is hidden within the player's shirtsleeve. Players would then review the footage in the casino bathroom, and after consulting a cheat sheet, they would return to the table, and win. The gang was arrested and has since disappeared.
Casino Cheats #4: Richard Marcus
Richard Marcus was arguably one of the most old-school of the casino cheats. Marcus scammed casinos across Las Vegas by approaching the roulette table in an apparently drunken state. He would then strategically place his chips down so that a $5 chip was on top and the bottom chip couldn't be seen.
When Marcus lost his bet he would grab the chips before the dealer could get to them, something that is absolutely taboo. However, when the dealer reacted, Marcus would act even more intoxicated so that the dealer would give up and ultimately give him a pass. But, when Marcus did win, he would create a huge ruckus. Only then would he reveal that the value of the chip below was far more than a mere $5. Marcus was never caught. In fact, the only reason we know about his scam (which he referred to as "Savannah") is because he detailed this shady practice and the millions of dollars he'd accumulated in a tell-all book once he'd retired from the casino racket.
Casino Cheats #5: Edward Thorp
Another of the well-known casino cheats is Edward Thorp. Born in 1932, Thorp went on to become a mathematics professor, an author and hedge fund manager, as well as (born 14 August 1932) is an American mathematics professor, author, hedge fund manager, and blackjack player. He invented a wearable computer, the world's first, in 1961. In 1962, he wrote a book entitled "Beat the Dealer," which was the first to prove, mathematically speaking, that a player could overcome the house advantage by counting cards. Thorp's strategy is used by gamblers to this day, and helped him to amass a considerable fortune for himself.