Gambling Etiquette: A Guide for Las Vegas Visitors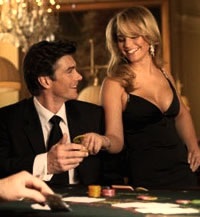 Gambling etiquette refers to the ways in which players should conduct themselves at the casino. Walking into a Las Vegas casino for the first time can be a somewhat intimidating experience. Most people are aware that that there is a code of conduct that players are expected to follow, but if you're not an experienced player, you probably won't be clear about the specific rules. This can be particularly challenging because many of these are rules are unwritten. If you're planning a trip to the casino, the five, easy-to-follow gambling etiquette guidelines provided below should help to put your mind at ease.
Gambling Etiquette Rule #1: Free Drinks
The casinos want to "loosen" up players so that they'll be inclined to play more hands and bet more aggressively than they might do so normally. If you go to the bar, you'll have to pay for your drinks. However, if you are playing at the tables, at some point a waitress or waiter will come by to take your order. You can't order multiple drinks at once so you'll have to choose the one you want and then wait for them to return before you can request another one. When the drinks arrive, be sure to tip your server. A good rule of thumb to follow is to tip more generously than you normally would for your first drink; $5 should suffice. This will incentivize your server and it will be much more likely that he or she will check back frequently to see if you would like another beverage. After the first drink, a $1 tip for each drink served will generally suffice.
Gambling Etiquette Rule #2: Tip the Dealer
Whenever you win a hand at the casino you should tip your dealer. Don't interfere with the action at the table; always wait for the hand to be played or for the roll to be complete first. Then, before the start of the next round, give your tip to the dealer. Obviously it depends on the amount of your win, but $1 tip for every winning hand is a good rule of thumb. Even if you don't win, you might want to consider giving the dealer a $5 tip for each hour you're at the table. When it comes to tipping, the gambling etiquette isn't crystal clear, but you might want to consider giving 0.5%-1% of your winnings to the attendant when playing slots. Because progressive slots winnings aren't doled out manually, you don't need to tip in this instance.
Gambling Etiquette Rule #3: Counting your Money
A big no-no at the casino is to count your winnings in public or to overtly celebrate a win, whether it be big or small. There are many reasons for this. First of all, casino players tend to be very superstitious and seeing another player celebrating a win can throw off another person's game. Secondly, it can be very distracting to players and dealers at other tables and can interfere with their current hand or toss of the dice. And lastly, it's not safe. Alerting a bunch of strangers that you've just won a bunch of money can make you a target for a mugging or robbery. If you must count your money, excuse yourself from the table, and do it in your hotel room or some other private location.
Gambling Etiquette Rule #4: Appropriate Attire
The dress codes at Las Vegas casinos are surprisingly relaxed; virtually anything goes. Although you will probably be allowed to enter the casino in shorts and a t-shirt, you might want to step up your game and take advantage of the opportunity to wear a nice tailored suit or cocktail dress.
Gambling Etiquette Rule #5: Other Helpful Hints
If you really want to avoid making any social blunders, you should also consider following a few additional guidelines. For example, avoid using your cell phone on the casino floor. Instead, you can step outside to place your call. Gamblers tend to be somewhat private. Be considerate of this fact before taking any photos. If you brought your children with you, keep them away from the tables and slot machines to prevent them from distracting the other players. And finally, if you're a smoker, find out where it's permissible to smoke before you light up as some areas are strictly "smoke-free."
Following these simple guidelines will help you to avoid making some of the most common casino "faux pas." If you keep these rules in mind you shouldn't have any issues at the casino and you'll be able to focus your energy and excitement on your gambling experience. Of course, you can always opt to play at an online casino where none of these rules apply!