Live Dealer Casinos – How Do They Work?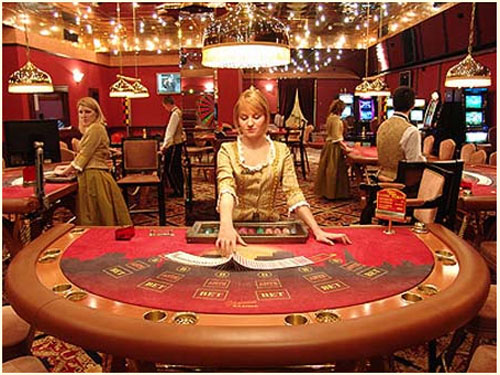 Live dealer casinos first came on the scene in 2006. Since that time they've become a staple at almost all of the biggest online casinos existing today. Unlike other casino games, live dealer casinos are not always available in free play mode. The reason for this is because the casino has to cover the cost of the various dealers, streaming costs, etc. Therefore, you will likely need to register for real play before you are able to experience live dealer casinos. You no longer have to download software in order to play live dealer games. Depending on the casino, you can now play them directly from your browser, tablet, or smartphone.
Live Dealer Casinos Explained
What are live dealer casinos? Well, they are pretty much exactly what the name suggests. Live dealer games don't rely on virtual tables and animated graphics. Instead, they use real tables and real-life dealers. These games are meant to give you as close to a land-based casino experience as possible. The croupiers deal the cards, spin the roulette wheels, and interact with the players. The only virtual element of the games might be an area of the screen that will display the results of each hand or spin so that it is more readily visible to the player.
Live Dealer Casino Features
Other features you might see at live dealer casinos will be similar to those you are likely to see at any other online casino. There are settings that allow players to control the sound quality and visual display. Players can also access customer support in the event that they have any questions or concerns. And of course there is a cashier section where players can make deposits as well as submit a request to withdraw any winnings. The croupiers at live dealer casinos will often welcome you once you launch the games. If it's a multi-player game there will usually be a chat feature that allows players to interact with one another during the course of the game.
How Live Dealer Casinos Work
Live dealer casinos are used by many online casino operators throughout the world. Therefore, it's not unusual to find the same live dealers at a number of different online casinos. Playtech and Microgaming powered casinos are just a couple of examples of major software providers that license their live dealer casino games to multiple websites the world over.
Live dealer casinos are streamed from secure, licensed locations such as Ireland and Costa Rica. When playing at live dealer casinos, players can usually select which dealer's table they prefer to visit. Online casinos try to lure players to stay longer at the tables by employing the most attractive live dealers possible. While these dealers may be glamorous, they are also very professional and their purpose is to enhance and not detract from a gambler's overall gaming experience.
Live dealer casinos offer more than just the live dealer games. Should you prefer to play traditional online casino games such as slots or video poker, there are plenty of those games to choose from as well. Live dealer casinos are as close as you'll get to a real life casino but with the convenience of playing from home. If you haven't experienced live dealer games yet they are definitely worth a try!