Live Dealer Casinos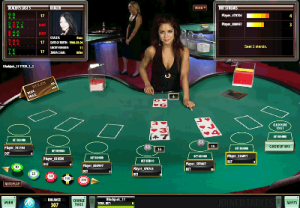 Live dealer casinos are increasingly popular with online gamblers. Technology has advanced at such a speed that there is now an expectation that the virtual world more accurately reflects a real-world gambling experience. Think of the early days of online gambling as being like a rotary phone. You could make calls, but the experience of doing so would no longer measure up for someone used to "Facetiming" on a mobile phone. In much the same way, players are no longer satisfied with nicely rendered casino games. Live dealer casinos offer a live feed and real-time communication with actual dealers.
Live Dealer Casinos vs Land-Based Casinos
Live dealer casinos have been around for many years. However there used to be only a limited number of casinos that offered this unique feature. There were a few reasons for this. For one thing, live dealer casinos require a solid internet connection. In the early days of live dealer casinos there were still many users with dial-up connections. Therefore, the number of gamblers who could properly access the games was relatively small so the casinos didn't feel the need to cater to such a limited group. There are also substantial costs associated with operating live dealer casinos. In addition to the expense of streaming the live feeds, there's additional costs including salaries for the dealers themselves.
When it comes to finding the best live dealer casinos, one of the best methods is to look first at the casinos that already offer solid, state-of-the-art software. The temptation might be to look at casinos such as William Hill that have maintained land-based operations for years. This seems like a perfectly logical approach. After all, they would seem to have lots of experience working with dealers. However, even the best dealers cannot provide a satisfying gaming experience if the technology doesn't support it. Fortunately there are plenty of options to choose from. Many of the long-standing online casinos have gone to great lengths to update their software platforms in order to remain competitive. There are also several new online casinos popping up that are looking to capture market share by offering the latest and greatest games.
Live Dealer Casinos: How They Work
The games offered by live dealer casinos are the same as regular online casino games. The only difference is that instead of a computer generated "dealer," there is an actual dealer. A live stream allows players to watch the dealer perform their duties in real-time. Thanks to live chat software, players can also interact with the dealer just like they would in a regular casino. When playing multi-player games, players can also interact with fellow gamblers as well as the live dealers.
Live dealer games are played just like other casino games. By using your mouse and keyboard you can place your bets and maneuver from one game to another. You'll still see your bets displayed on the game screen. The only difference is the live dealer, who acts as the host and adds an interactive element to the game.
Live dealer casinos are best suited for blackjack, craps, and poker players because those games have a strong social component. But, whichever game you choose to play, live dealer casinos offer a heightened interactive experience that more closely resembles that which you'd find at a land-based casino. As technology continues to advance, the live dealer experience will only get better!