Online Blackjack 101 – A Beginner's Guide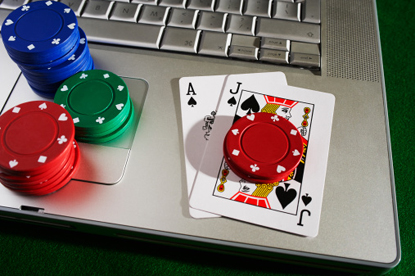 Online blackjack is one of the most accessible of all the online casino games. Blackjack has always played a big role in popular culture. It's been featured in books and movies, mostly because blackjack has established a reputation as being a "cool" game. The first recorded reference to the game of blackjack dates back to the 17th century. Referred to then as "ventiuna," the goal was to get the score that is closest to 21 without busting, or going over. An ace can have a value of 1 or 11. When the game was adopted in the UK it became known as "pontoon." The game of blackjack, as it is currently known, became increasingly popular in 1800s America. Since that time you're unlikely to find a land-based or online casino throughout the world that didn't feature one or more blackjack tables.
How to Play Online Blackjack
When playing online blackjack you must place a wager before you will be dealt any cards. Once your bet has been placed, you will receive two cards, which are dealt face up. The dealer receives two cards as well; one face up, the other face down. Players must then decide whether to "stand" with their current point total, or try to get closer to 21 by requesting one or more additional cards. Most modern online blackjack games require the dealer to hit on any point total of 16 or less and stand on any point total of 17 or more.
Online Blackjack Strategy
Knowing the basic rules of the game of online blackjack allows you to see where strategy can be applied. Players have the advantage of understanding how the House must react in certain point total situations. For example, a dealer who draws a 15 point total has no choice but to accept another card. Players, on the other hand, have the freedom to determine whether or not they want an additional card. This freedom translates into some of the best odds you'll find at the casino.
When following basic blackjack strategy on every hand, the average online blackjack game has a House edge of approximately 0.5%. This edge varies depending on the version of the game being played. On a blackjack, if the casino will only pay out 6:5 as opposed to 3:2, the house edge will be much higher.
Card counting is another level of strategy aimed at reducing the house edge. The practice involves keeping a mental tally of every card put in play and calculating the odds of point value of the remaining cards in the deck being played in order to determine whether it is more prudent to hit or stand. Contrary to popular opinion, card counting is not illegal. However, casinos do reserve the right to ban any player they feel may be attempting to implement this strategy. The huge financial success of big-time blackjack players has been well documented in books, television, and movies. Consequently, blackjack has long been considered a go-to game for people looking to win big bucks.
Modern Online Blackjack Rules
The rules of a game of modern online blackjack haven't changed since it was first introduced in the 17th century. Face cards are still valued at 10 points and Aces are still valued at either one or eleven. There are only three possible outcomes in a game of modern online blackjack: win, bust, or push (tie). When a player is dealt an ace and a ten or face card, they win automatically with 1.5:1 odds.
Today's online casinos offer many variations of blackjack. The rules for these versions of online blackjack can usually be found within the casino and may also include tips and strategies for reducing the house edge. Online blackjack offers some of the best odds and most entertainment value. Try it for free and perfect your strategy and then, if you're feeling confident, place your bets for real!