eCheck Online Casino Payment Method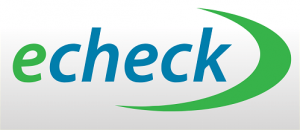 In principle, eChecks function in much the same manner as a traditional paper check. However, unlike a regular check, eCheck instructions are transmitted electronically. While credit cards give players the ability to fund their internet casino accounts instantly without funds necessarily being at hand, eChecks require that the necessary funds are already present in the player's checking account.
A big advantage of the eChecks payment option lies in the fact that it's available to U.S. players. Because American players face so many constraints when trying to fund a casino account, having eChecks available as a viable option is a boon. The eChecks payment option can also be used by players residing outside the continental United States. Players need only possess a funded checking account and have access to an internet casino that accepts eChecks as an option for deposits.
eChecks also offer an added measure of security. When using eChecks, a player's bank communicates with the casino online. If the casino's payment systems aren't 100% secure, it is likely that the bank will reject the transaction. Verification is performed automatically by they bank and is virtually instantaneous. Rejections rarely occur at reputed online casinos since these casinos feature the latest Secure Socket Layer encryption protocols. Furthermore there are no charges for deposits made via the eChecks method. This is important to note as charges applied on deposits can reduce a player's bankroll even if only by a minor amount.
In order to use eChecks players must first open and fund their checking account either by transferring the necessary funds from another account, or by depositing cash directly into the bank account. Players will need their account, and bank routing numbers, which the bank can provide.
From within the casino's cashier, one then chooses the Deposit option, chooses eChecks as a deposit method and once the account and bank routing numbers have been properly entered, one inputs the deposit amount to be transferred. One must be careful that the total amount entered doesn't exceed the current balance in the player's bank account. If this is not the case, it is likely that the requested transaction will be declined. When details are transmitted successfully the account at the casino will then be credited immediately and the player's checking account is then debited accordingly.
This same process is used for transferring amounts from the internet casino to the player's checking account, only this time the player will chose eChecks as a withdrawal rather than the deposit method. When the transaction has been successfully transmitted, the casino account is debited and the player's checking account is credited instantly.