Wire Transfer Online Casino Payment Method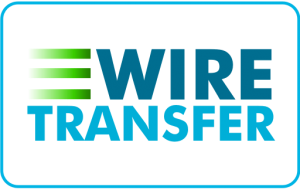 Wire transfer is popular alternate payment process that is an available deposit and withdrawal option at several online casinos. Wire transfer transferring of money electronically from a designated account to a different account by way of the internet. Bank transfers, which are especially common in Europe, are the most widely used forms of this type of money transfer. When you use a debit card you are in effect making a wire transfer since your money is transferred electronically to a point of purchase from your personal bank account.
Wire transfers are usually a secondary option for most players looking to fund their casino accounts. The key reason being the amount of time required to transfer funds by wire transfer. If all the necessary information that has been provided is correct a wire transfer generally takes about 3 to 5 days.
Generally speaking, regulatory agencies monitor wire transfers. Wire transfers issued within the U.S. are overseen by Federal Regulators as well as the UCC's Article 4A. The European Commission safeguards these transactions within Europe. Fees associated with wire transfers are lower in Europe so long as the transfers are conducted between member countries. If the transfers involve countries outside the EU, fees are generally much higher.
Typically, casinos prefer to receive funds by wire transfer because not only it it more difficult, but in most cases impossible, for the player to chargeback funds. This does of course depend on the status of the funds during the transfer. This is the main reason why several online casinos provide bonus incentives to players for funding their casino accounts via wire transfer.
Transferring money by wire transfer is considered to be a relatively simple process. You simply allow your bank or another designated financial institution to move a predetermined amount of funds from your account to another account. For bank-to-bank transfers you must provide basic information, such as the BIC or IBAN code. Numbers such as these identify the recipient's bank. The bank then issues a message via SWIFT or FedWire to the recipient. Making sure that the funds have been received successfully by the designated recipient usually takes a few days. This is why wire transfers generally take longer to send money than other online payment methods.