Online Roulette: A Beginner's Guide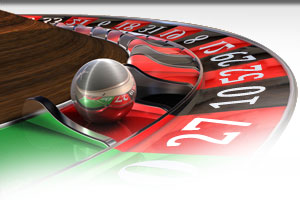 Online roulette is not only one of the most popular but, of all the games you'll find at an online casino, is also one of the easier games to play. There isn't all that much to it. You simply pick a number, wager, and then watch as the wheel spins in order to determine the outcome. The basic elements of a game of online roulette is not really any different than a game of roulette you would play at a land-based casino. However, online roulette does provide players with a wealth of options that don't apply to brick-and-mortar roulette. For example, when playing online roulette, players have the option to wager on the game using real money, or placing bets for fun using free play credits. Online roulette players can play on a range of devices: PC, Mac, tablet, or smartphone. This makes the game of roulette great for gaming "on the go." And, if you love the action of land-based roulette, you can replicate the experience pretty closely when playing online casino's live dealer roulette games.
Types of Online Roulette Games
Online roulette come in many different varieties. Most players are familiar with the terms "American" and "European" roulette, but there are a few more, less common variations. Below is a brief guide that outlines these different variations of the game.
American Roulette: This version of roulette is most widely played in US brick-and-mortar casinos. Also known as "double-zero" roulette, this variation is distinguished by the fact that the wheel contains "0" and a "00" slots. Because the American Roulette wheel has 38 slots, rather than the 37 slots that you'd find on a European wheel, it is not highly sought after by players. This is due to the fact that the extra slots reduces a player's odds of winning.
European Roulette: This is far and away the most popular type of online roulette. This version is also known as "single-zero" roulette. Although the odds for this game won't be as good as you'd find at a game of baccarat or craps, they are much better than the odds offered by the American version.
French Roulette: This variation of the game of online roulette is occasionally confused with the European version of the game because they come from the same region of the world. However there are several types of wagers that are unique to French roulette, which are referred to as "Announced Bets."
Online Roulette Software
Online roulette software can vary from one casino to another. Most of them will offer great graphics and realistic sounds, but some will provide additional features like live dealers. Always look for online roulette software that includes the European version of the game as that will give you the best odds for winning. Single-zero roulette provides 36:1 odds for single-number bets, whereas double-zero roulette gives 37:1 odds for the same bet. This means that playing the European version of online roulette cuts the house edge in half when compared to the American version. So a 5.27% house edge on a single-number bet on an American wheel is reduced to 2.6% on a European wheel.
Some of the bigger software providers also offer mobile versions of their online roulette games. These games can usually be played on both Android and iOS devices and there are some apps available for Windows and Blackberry devices as well.
Roulette History
Today's game of roulette is identical to the game invented in Europe a few centuries ago. Few casino games have changed as little as roulette. Roulette has existed since the 18th century. We know that the game then used red and black spaces on game wheels that would be familiar to today's casino gamblers, and depended on numbers from 0 through 36.
The only difference between the original game of roulette as it was played in Europe and today's game is that American casinos added another slot to make the odds a little less advantageous for the player. American style roulette wheels have both a 0 and a 00 slot while European wheels contain just the 0 spot. This makes the online roulette games far more convenient than their land-based counterparts. As the mobile market continues to grow, mobile online roulette games are sure to become even more readily available.