Online Slots vs Offline Slots: A Comparison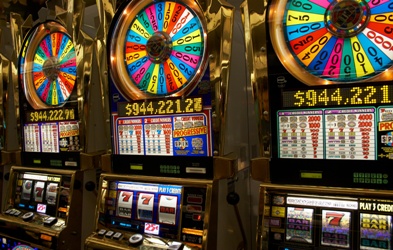 When online slot machines first appeared they were a far cry from what you would see in a traditional brick and mortar gambling establishment in terms of both jackpots and overall quality. Modern online slot machines have evolved to point that they now closely resemble the real thing. Below we'll take a closer look at just a few differences that remain between virtual and land-based slot machines.
Differences of Online Slots vs Traditional Slots
Online slot machines are almost identical to traditional slot machines, also known as one-armed bandits. Both of these types of slot machines produce outcomes that are pre-programmed via a unique computer chip called a Random Number Generator.
Obviously you can't play online slots with real coins. There's no coin slot feature available on laptops, desktop computers, tablets, or smartphones. Online slots use virtual currency, which has the same dollar value of real currency. Another key difference between virtual and traditional slots is that you can play Therefore playing slots online gives you an identical experience with a couple of exceptions. Online you play online slots from any location that has available internet access. There's no need to travel to an actual casino. You can play anytime, anywhere.
Online Slots Payout Percentages
Because land-based casinos have much higher operational costs than online casinos they usually have to offer lower payout percentages than their online counterparts. This is because they need to generate enough revenue to help cover costs such as insurance, rent, and staff. Online casinos don't have nearly as much overhead.
So, in addition to saving on travel costs, including food and hotel accommodations, online slot machines also give you the opportunity to earn more, thanks to the higher payout percentages.
Online Slot Comps and Bonuses
Traditional brick and mortar casinos are famous for comps. When you register with the casino's rewards program you can be eligible for perks like free meals, tickets to a show, hotel upgrades, etc. This is all based on the amount of money you wager at the casino. And, while you won't get the same type of rewards from an online casino, the concept is exactly the same.
Almost every online casino offers comp programs that reward players with additional casino credits that are awarded based on your total wagers. The more you wager, the more free credits you'll receive.
Online Slots Progressive Jackpots
Online casino progressive jackpots are rapidly closing in on the massive jackpots one would normally find at a land-based casino. As online casinos continue to grow in popularity, so too will the progressive jackpots. Currently, the record for the highest online slots jackpot win is €6,374,434.00, which is approximately 8.69M in US dollars. Smaller jackpots of a few thousand dollars are won on a more regular basis both online and offline.
Most of the big jackpots wins at land-based casinos are issued to the player in installments. Depending on their licensing agreement, some online casinos are required to pay out any winnings all in one shot.
Slot machines will always be a huge draw at both online casinos and their land-based counterparts. There is a broad range of themes and types of machines to cater to the desire of any player. Both online and offline slot machines offer tremendous entertainment value. However online slot machines offer the added convenience of being accessible anytime, anywhere.