Sensational New Thunderkick Slots Games Now Available at 777Mobile.com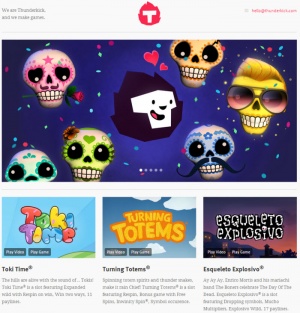 As a seasoned professional, I always try to maintain an objective view when it comes to the products I review. That being said, I will freely admit that it was practically love at first sight when I laid my eyes upon the new games from Thunderkick Slots, which are currently available at 777Mobile.com. Thunderkick Slots is a software development company based in Stockholm, Sweden. They are relative newcomers, having launched in 2012. The Unity software the games use give them the ability to generate the most compelling 3D real-time animations that I've seen to date. The games load directly within the web browser, making them accessible to both PC and MAC users. The games also boast a Return to Play (RTP) percentage of more than 96%. This means better-than-average returns overall, particularly in their amazing bonus rounds. 777 Mobile offers all of the titles except one: Birds on a Wire. They do offer Fruit Warp and Sunny Scoops, both of which were just released last month.
Types of Thunderkick Slots Games
Most of the Thunderkick Slots games are 5-reel machines, though there are some 3, 9, and 15-reel games in the mix. Paylines vary from 1 to 25. The unique style of these games really sets them apart from the competition. They barely resemble the traditional slot games of yore. Rather, they are much closer in appearance to games you might find in the App Store. The games are like nothing you'd expect to see and trying them for the first time can be mind-blowing. In addition to employing the best game designers, Thunderkick Slots also creates a transformative experience through sound. That being said, don't think for a second that enjoying the sights and sounds means that you have to sacrifice quality of play; nothing could be further from the truth.
Unique Features of Thunderkick Slots Games
The action is, however, unique to say the least. Reels don't spin in the usual way. They spin float, and zoom. Every element of the traditional slot games have been reimagined. However, Thunderkick Slots games do feature familiar elements such as locking wins, respins, bonus rounds, free spins, as well as multipliers. You can also manage how the games play using the control options, which allow you to perform actions such as setting them to auto-play. Each game has a distinct look and feel but something that is consistent among all of the games is the smoothness of the action. The mesmerizing games are almost cinematic in their appearance. It can take a bonus round being triggered to release you from the trance and pull you back into the action. And make no mistake, there's lots of action to be had with Thunderkick Slots.
Thunderkick Slots Games Now Available at 777Mobile.com
Below are the new games that are now available in both Real and Fun mode at 777Mobile.com:
Magicious – a 5-reel, 10-payline slot machine.
Barber Shop – a 5-reel, 25-payline slot machine.
Bork the Berzerker – a 5-reel, 25-payline slot machine.
Toki Time – a 5-reel, 11-payline slot machine.
1429 Uncharted Seas – a 5-reel, 25-payline slot machine.
Esqueleto Explosivo – a 15-reel, 17-payline slot machine.
Fruit Warp – a 9-reel, 1-payline slot machine.
Sunny Scoops – a 3-reel, 14-payline slot machine.
A description of these games will never do them justice. These are games that are begging to be played; they are really that spectacular. And the fact that this Scandinavian software company is so young and yet so accomplished suggests that there will be even more exciting things to come in the future from this intensely creative team. Don't miss out; try these incredible games today!