The Five Biggest Gambling Winners of All Time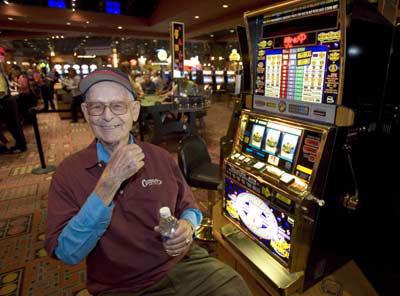 The dream of everyone who spends money at a casino is to walk away being one of their biggest winners. Sure, sometimes we go to the casino for the entertainment value, but somewhere, even if it's deep in our subconscious, we long to be the next person in line to break the bank.
Below, we're taking a look at some of the fascinating people that went on to become the five biggest gambling winners of all time. Each of these gamblers path to riches was unique and, unfortunately, not every story has a happy ending.
Gambling Winner #1: Archie Karas – $40 Million Dollars
Archie Karas walked into a Las Vegas casino with a mere $50 in his pocket. Lady Luck was clearly his companion because Karas went on to parlay his $50 into a $40 million dollar jackpot. This massive win made Karas the biggest gambling winner of all time. However, Lady Luck is a fickle mistress, and ultimately he went on to lose it all. Karas is probably the greatest example of how important it is to know when to walk away, and when to run!
Gambling Winner #2: 'Peter' – $38 Million Dollars
The next biggest gambling winner is known only as 'Peter' and he managed to net $38 million dollars in winnings without even having to step outside his house.
An online casino slots player, 'Peter' took home a staggering $38 million dollar progressive jackpot. Ironically, the game he was playing when he scored his big win was called Arabian Nights. The game's slogan is "Anything can happen." Talk about truth in advertising!
Gambling Winner #3: Elmer Sherwin – $26 Million Dollars
The Megabucks slot machine, not to be confused with the lottery game Mega-Millions, was the vehicle for Elmer Sherwin's gambling fortune. Sherwin enjoyed a $5 million dollar progressive win in 1989. Then, against all odds, he won an additional $21 million dollars when he spun the reels again in 2005. The odds of winning on this machine are 1 in 50,000,000!
Gambling Winner #4: Mike Ashley – $1.6 Million Dollars
The fourth biggest gambling winner was rich and famous before even hitting the tables. As the owner of the Newcastle United Football Club, Mike Ashley bet on roulette and won a whopping $1.6 million dollars. A savvy player, Ashley collected his winnings and exited the casino. Unfortunately for him, it was reported that he lost 1 million pounds in just two hours in 2011.
Gambling Winner #5: Charlie Wells – $1 Million Dollars
Although it might seem strange that we would consider a $1 million dollar win as being one of the biggest gambling wins of all time, however, it should be noted that this win took place in 1892. Charlie Wells, otherwise known as "the man who broke the bank at Monte Carlo" played non-stop roulette for an incredible eleven straight hours. His efforts clearly paid off. Just imagine what a million dollars could get you in 1892!
Whether you're playing online or at a land-based casino these stories prove that Lady Luck can bestow good fortune anytime, anywhere. And, if you're as fortunate as Elmer Sherwin, it can happen more than once! So, if you're up for adventure, hit the casino and, who knows, we just might need to add your name to our list of the biggest gambling winners!