Using Credit Cards for Your Online Casino Deposits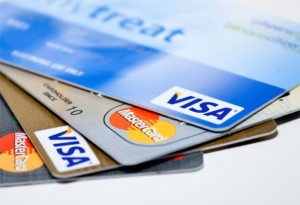 As soon as you have registered for real play at an online casino you will need to choose a payment method. This is particularly true if you plan on claiming a Welcome Bonus as the bonus usually won't be applied to your account until you have made your first online casino deposits. When it comes to financial transactions, credit cards are by far the most popular payment methods used at online casinos today. Depending on the casino, there can be lots of other payment methods offered, however credit cards are almost always the player's first choice. Online casinos go to great lengths to ensure that all financial transactions are safe and secure, but because most people already have a major credit card, these tend to be used more than other payment options such as e-wallets or pre-paid debit cards. By using their credit cards to conduct online casino deposits, players don't need to open any additional accounts. They can simply make their online casino deposits and start playing right away!
Can I Use Credit Cards for my Online Casino Deposits?
A player's ability to use credit cards for online casino deposits will depend largely on where they reside. Changes to US law back in 2006 resulted in restrictions being placed on banks and credit card companies, making it illegal for them to facilitate these transactions. Therefore, if you should choose to make your deposits via credit card, you should first make yourself aware of any laws that may prohibit you from selecting this method. In the event that you could not use a credit card, you would likely receive a notification to that effect from within the casino's cashier. You can also refer to the casino website as this is where they usually list the accepted deposit options and any restrictions that might relate to their use. Outside of the US credit cards are, for the most part, widely accepted.
Disadvantages of Using Credit Cards for Online Casino Deposits
One of the drawbacks of using a credit card at an online casino is that you will be required to provide them with personal and financial details. Aside from the card number and the date of expiry, you will also need to supply your name, address, and possibly your telephone number. Once these details have been provided the casino will charge your card for the amount of your deposit. You will see this transaction recorded in your monthly statement. This is no different than any other online purchase you might make at any other online retailer.
Some players prefer to keep their gambling activity private. For players such as these, credit cards may not be the best option. For instance, if the credit card account is jointly owned with a spouse, the spouse would also have access to the credit card statement showing the amount of the online casino deposits. E-wallets and pre-paid debit cards are a less convenient but much more private means of depositing. Therefore they are a great alternative to credit cards for players who value their privacy.
Why Credit Cards are Still a Great Bet for Online Casino Deposits
Thanks to state-of-the-art encryption software, online casinos are able to ensure the safety of every financial transaction. This is implemented in order to guarantee that all personal and financial information is secure. Some casinos allow credit cards for withdrawals, which makes it easier for players because they can then use the one card to perform all financial transactions at the casino. So, for a safe and easy method of performing all your casino transactions, consider the credit card!